Definitions
The best definition of what affiliate marketing is can be found on Pat Flynn's Smart Passive Income:
Affiliate marketing is the process of earning a commission by promoting other people's (or company's) products. You find a product you like, promote it to others and earn a piece of the profit for each sale that you make.
Getting Started
How Does Affiliate Marketing Work?
You partner with a company selling products/services you would like to recommend to your audience. If they buy something using your affiliate link, you get a commission from the sale.
Affiliate marketing has become one of the top business opportunities online because you can start with a low cost by generating a mind-blowing cash.
Affiliate marketing involves having your own site and sending your traffic to someone else's site to buy their products or services.
For every sale initiated by a link from your site, you earn a percentage–an affiliate sales commission.
Affiliate marketing can be done on a part-time basis, and many are so successful that they've made it their full-time job.
Click here to learn the easiest, quickest way to grow your business profit online. It's Free.
How Does Affiliate Marketing Work?
When you join an Affiliate program and choose the products that you want to sell, sellers provide you with a unique affiliate code that you can use to refer traffic to the target site. Most affiliate programs will offer ready-made text links, banners and other forms of creative copies whereby you only have to copy the code and place it on your website or share with others to start referring traffic.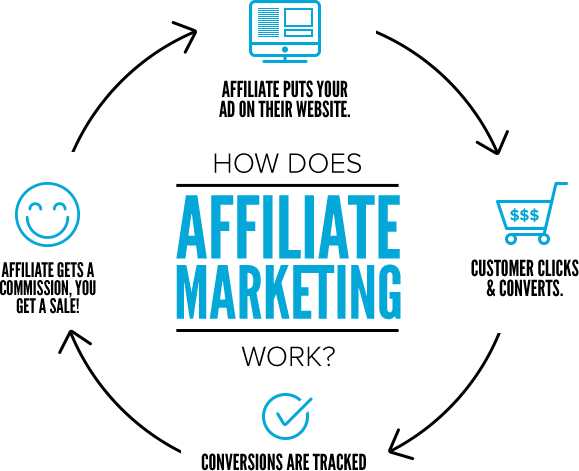 The affiliate will try to market to the consumer on whatever channel they see fit, whether that's a social network, digital billboards or through a search engine using content marketing on a blog. When interested visitors click on these links they get redirected to the product site and if they purchase a product or subscribe to a service you as the referrer make a commission.
However, Wikipedia talks about 4 different parties that are involved: the merchant, the network, the publisher, and the customer.
Other definitions talk about 3 parties instead of 4.

(Image source: CJ)
I will explain all 4 parties in a second. But, when it comes down to the actual marketing, there are 2 sides of an affiliate equation: the product creator and seller and the affiliate marketer.
Therefore, affiliate marketing can be seen as the process of spreading product creation and product marketing across different parties, where each party receives a share of the revenue according to their contribution.
It's not just the promotion or just the product creation that defines who you are as an affiliate marketer.
You can be both the creator and the marketer and still profit from the underlying idea of sharing revenue.
Now let's look at all of the parts of a successful affiliate marketing system.
The Merchant: Sometimes also known as the creator, the seller, the brand, the retailer, or the vendor. This is the party that creates the product. It can be a big company, like Dyson, who produces vacuum cleaners.
The Network: Only some consider the network part of the affiliate marketing equation. But, I believe that an affiliate marketing guide needs to include networks, because, in many cases, a network works as an intermediary between the affiliate and the merchant.
While you could technically promote an online course someone has created and just arrange a direct revenue share with them, letting a network such as ClickBank or Commission Junction handle the payment and product delivery puts a more serious note on your affiliate marketing.
Sometimes, affiliates have to go through an affiliate network to even be able to promote the product. For example, this happens if the merchant only manages their affiliate program on that network.
The affiliate network then also serves as a database of lots of products, out of which the affiliate marketer can choose which to promote.
Overview
As I said, there are basically two sides of the affiliate marketing equation that you can choose from, assuming that you're not going to build an affiliate network such as Commission Junction.
You can become a merchant and have others promote your product, in exchange for giving them a commission from the sales that they make.
Or, you can become an affiliate marketer for one or several products that you'd like to promote and market those to consumers, in order to make money.
While most people start by taking the affiliate route and it definitely is the easier path to take, building enough traffic to make a meaningful income just from affiliate sales isn't quick or easy.
That's why I'll walk you through the 4 basic steps that you can take to get started on both sides of the affiliate marketing industry.
How to become a merchant in 4 steps
If you want to become an affiliate program merchant and then make money by having affiliates sell your product, there are 4 simple, yet not easy, steps that you can take.
First, you need to have a product idea. I'll show you a few ways that you can generate those ideas, based off what's already popular, in the next section.
Second, you have to validate your idea. You could just go ahead and build your idea. But, what if people don't even want it? An idea is only good if people actually want it to come to life.
Third, you have to actually create the product. Since creating a physical product usually comes with huge investment and risks, I'll only show you ways to create digital products. These are the best place to get started since they typically only require your time and little or no money.
Also, once your product is created and released, you still need to find affiliates to promote your product and this is where affiliate networks can help.
Let's go!
Step 1: Coming up with a product idea
People always say it's hard to come up with an idea. It's not. Ideas are easy.
But, if you think that your idea has to be super original and born out of the pure genius of your brain, that's hard.
If you want to make money with an affiliate marketing business, you can't be romantically attached to your idea.
Instead, just look at what products and services are already out there. Consider how you can improve upon them, by delivering something that solves the problems with those products.
You can, of course, always, choose a topic that you're interested or involved in.
Imagine that you're a housewife or a stay-at-home Dad, for a second.
Maybe you want to create a product that makes household chores easier. For example, you could look for a vacuum robot to get some ideas.
Step 2: Validating your idea
In order to not end up doing a great series of sandcastle videos that no one wants to buy, you have to first validate your idea.
How do you do that?
Simple: You ask people to pay you for it.
How do you find these people? Easy.
Step 3: Creating the product
There are a ton of steps to follow for creating a product and this isn't an entrepreneurship guide, but I want to point you to some good starters.
I'll only give you resources for starting digital products, because I don't want you to waste precious time and money on creating a physical product on your first try ?
4 steps to becoming an online affiliate marketer
Similarly to becoming a merchant, there are also 4 steps that you can take to start your journey as an affiliate marketer.
First, you need to start reviewing products in your niche. That can be done on a YouTube channel, on a blog or even just using live streams on Periscope.
Second, you have to collect emails, so that you can connect with your audience at any time you want and don't have to hope for them to see your content.
Third, you can use joint venture webinars to make a lot of sales in a short period of time, while simultaneously growing your email list and creating new content.
Finally, once your affiliate marketing business starts making money, you can scale your growth with pay per click advertising.
Step 1: Review products in your niche
It's easier to get started as an affiliate because you're skipping the 'have an idea' and 'creating an idea' parts of becoming a merchant.
You already use and like plenty of products, so all that you have to do get started is to publicly talk about them.
Start by looking at the partners in step 4 for becoming a merchant, because that's what you're trying to start in this step.
Any product works.
Really.
Take a look at this guy, who reviews Hot Wheels tracks and cars: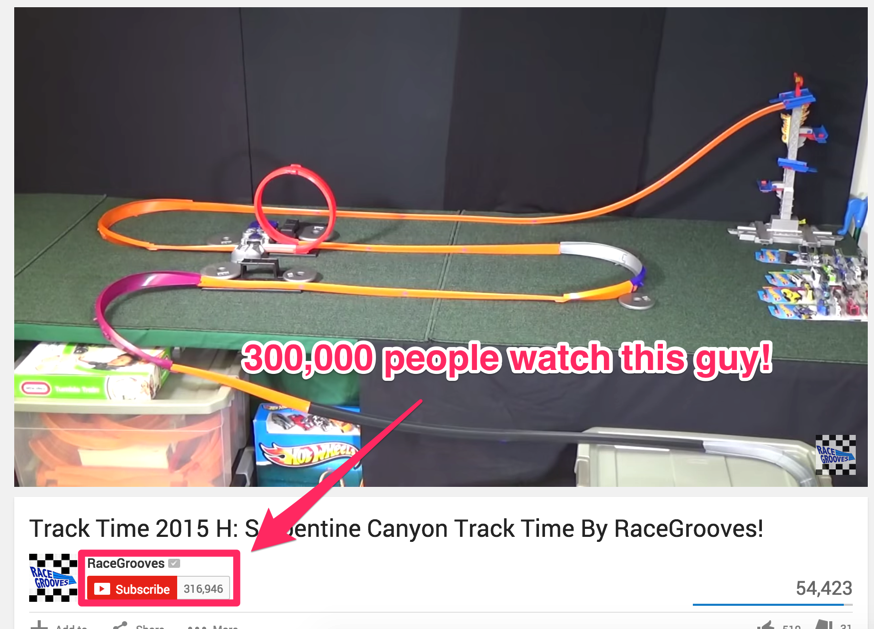 Over 300,000 subscribers for Hot Wheels? I'm sure whatever your niche is, it's less specific.
If you like reading, review books: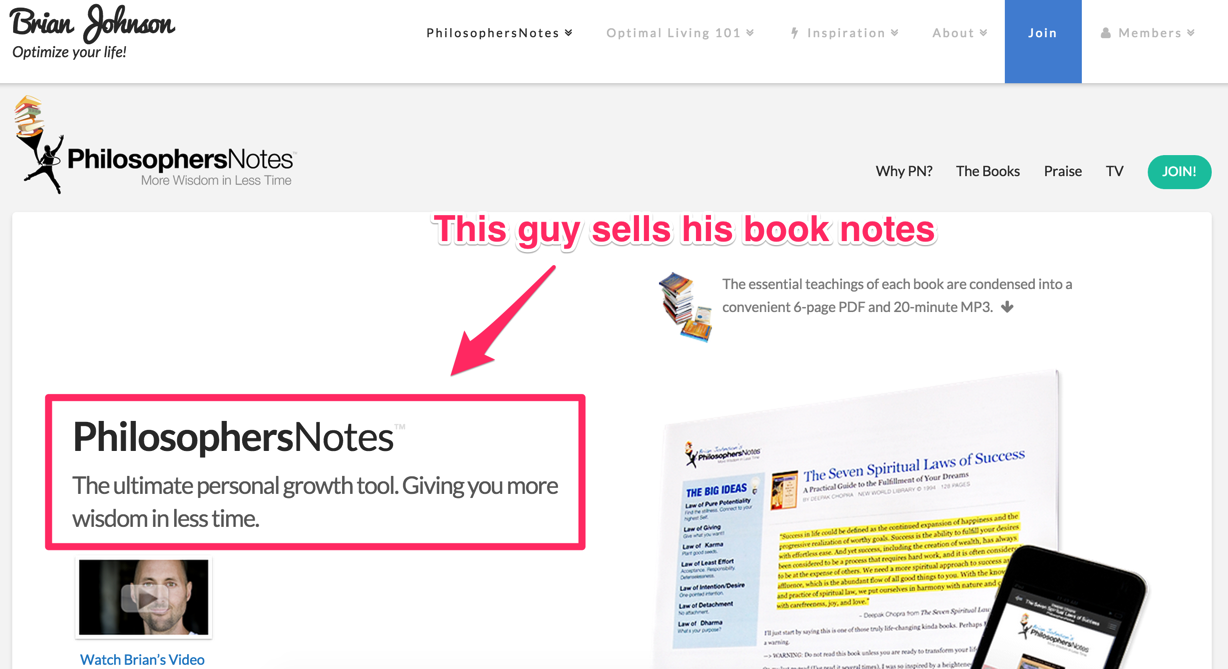 Note: A special kind of review, that usually does really well, is the comparison with a direct competitor.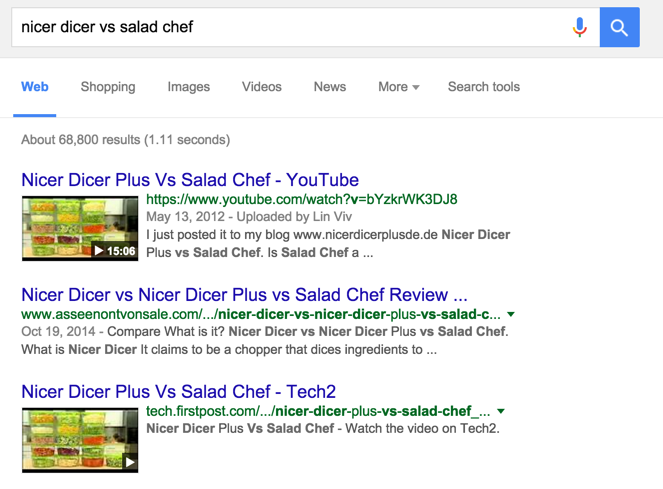 You'll soon find plenty of people who are already doing this. Just search for "best hair straightener," and have a look: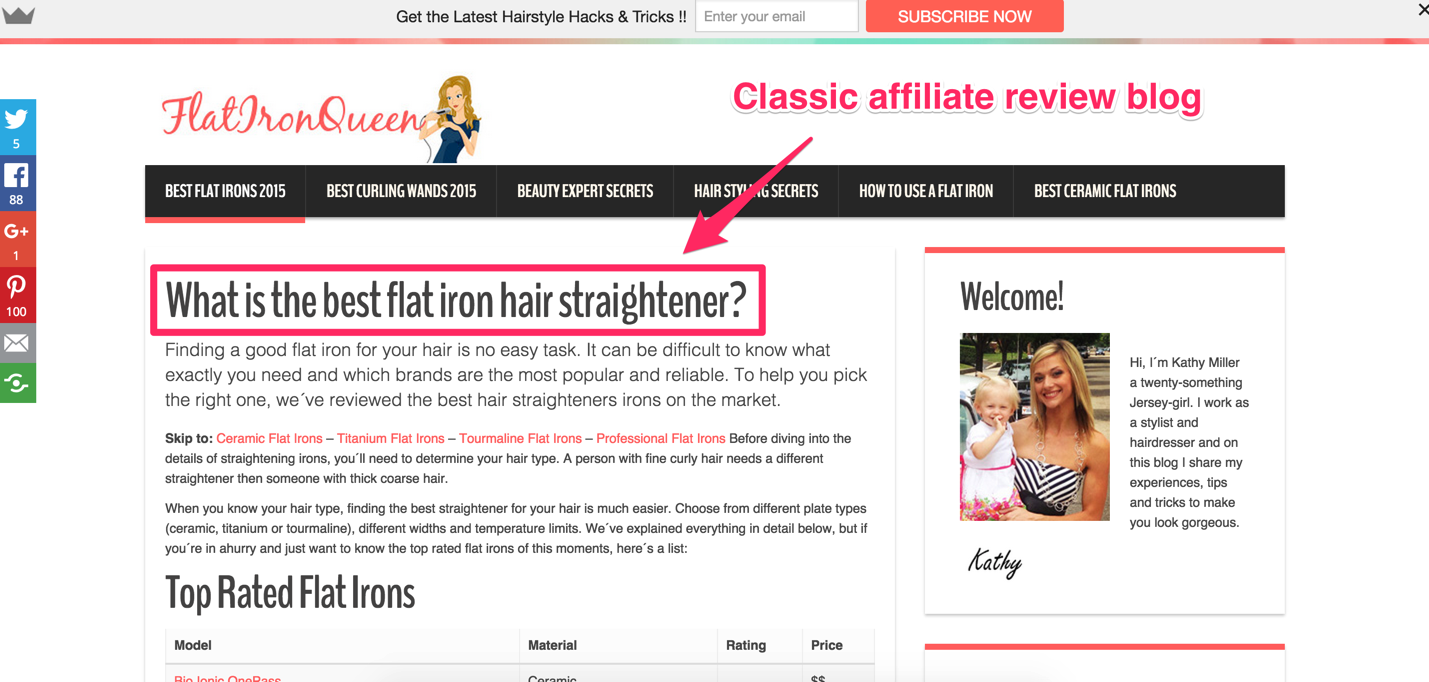 This blog reviews flat irons for straightening hair (for women). How specific of a blog is that?
She can relate to the product, as she needs to straighten her own hair. And, if she does her research well, the blog not only ranks highly in the search engines but also actually helps women to find the best tool for the job.
Whatever you're reviewing, make sure that you do the same.
If your reviews aren't genuinely helpful, people will sense immediately that you're just trying to make a quick buck.
As Pat Flynn points out, in his affiliate marketing guide, involved affiliate marketing is by far the most profitable, because you can actually relate to the product, instead of just promoting something that might make you a lot of cash.
When you don't even know the product, how can you credibly promote it?
Note: This is a little different for consumer products than it is for online courses or books created by individuals. If you've known a person for a long time and trust them and know their work is great, then that's a different thing.
When you write reviews on your blog, you can use an affiliate link to link to the products that you promote.
You can recognize them on other blogs by the long "/ref…" tail, at the end of the regular link.

(how you know it's an affiliate link)
This is usually the first step to start making commissions.
Simply sign up to Amazon Associates and you can then proceed to get your own affiliate link to any product on Amazon.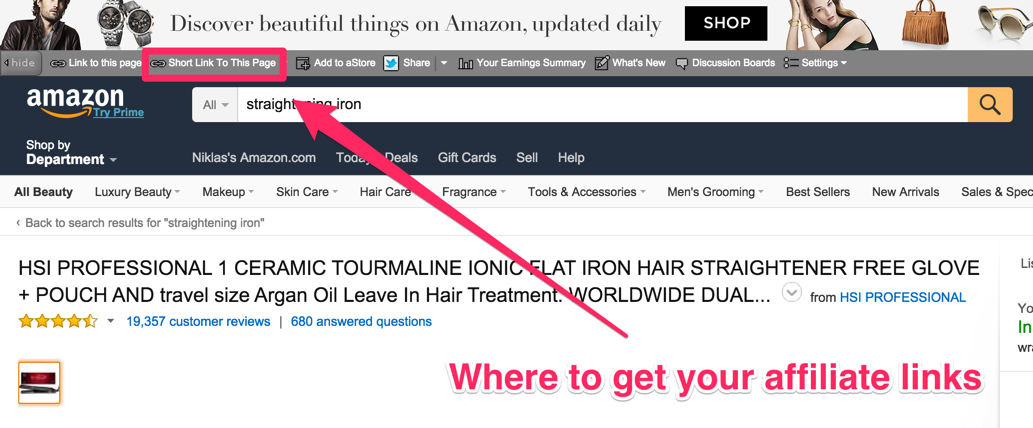 Just go to the product page and click on "Short link to this page." You'll get a link that'll give you a commission if people purchase through it.

However, if you only rely on people using the affiliate links in your reviews, that means that you need lots of traffic to actually start making serious money.
But, if you find a way to contact your audience directly, you can market to them whenever you like, not just when they come to your website.
This is where step 2 comes in.
Step 2: Build an email list with your prospects on it
Email is still one of the best marketing channels today, so don't miss out on it.
I'll show you 3 super easy ways to collect email addresses from your website visitors.
Number 1: Hello Bar
Hello Bar puts a call to action on top of your website. Whenever someone visits your website, they'll see this bar at the top.
You can offer them an ebook (maybe bundle together your 3 best product reviews) or a special review video.

Once they click on your Hello Bar, you can redirect people to the page where they can enter their email in exchange for the content.
Number 2: Exit Gate
Conclusion
Time to recap. So, there are two ways to get started with affiliate marketing.
You can become a merchant or an affiliate.
The 4 steps of becoming a merchant are:
Coming up with a valid product idea.
Validating that idea by getting people to pre-pay you for the product.
Creating that product.
Finding affiliates, likely through an affiliate network, to partner with who will promote your product.
The more common and slightly easier route is becoming an affiliate. There are also 4 steps that you can follow:
Starting to review products in your niche
Building an email list
Using live webinars to educate your audience and make sales
Growing your affiliate business with PPC advertising
Affiliate marketing is a good way to get started with online marketing.
The only question is, which side are you going to pick?
Let me know in the comments.
You can also use Hello Bar to create an exit gate. This is a popup that will lay over the screen when visitors are about to leave your website.